The David A. Whiting, MD
Leadership and Research Award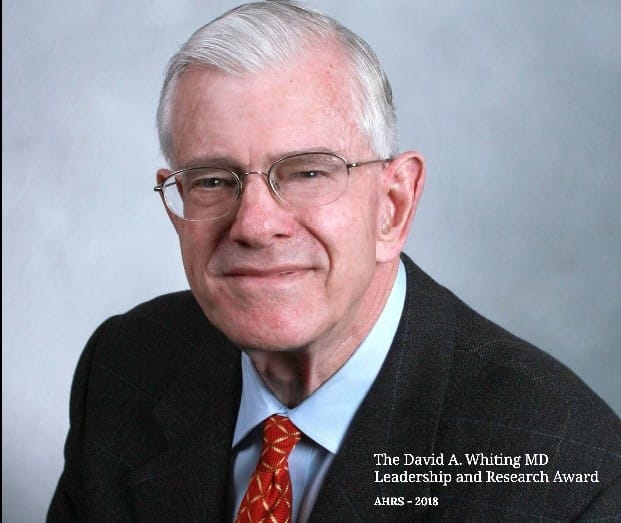 The David A. Whiting, MD Leadership and Research award was created in 2017 by the American Hair Research Society to recognize and honor a clinician and/or researcher who has been a significant contributor to advancing the science and understanding of hair disorders.
Recipients

2023 | Maria K. Hordinsky, MD
2022 | Leonard C. Sperling, MD
2021 | Hideo Uno, MD, PhD
2020 | Elise A. Olsen, MD
2019 | Wilma F. Bergfeld, MD
2018 | David A. Whiting, MD
About Dr. David Whiting
Born and educated in South Africa followed by the United Kingdom, David qualified as a medical doctor at age 22; he and his family relocated to Dallas in 1977.
David's professional life mirrored that of his personal life with a zest for learning, a quick wit, and an amazing depth of understanding and intellectual curiosity. As a practicing dermatologist, much loved in the community, he amassed a sizable curriculum vita, and over his lengthy career achieved international recognition while earning 10 medical degrees and qualifications from three different countries including a PhD. He was an active member of the medical and academic community until the age of 86—attending and presenting at conferences, editing, reviewing, and publishing scientific books and over 115 peer reviewed articles and book chapters.
David A. Whiting, MD, aged 86, renowned dermatologist and expert in alopecia, died peacefully at his home on February 19, 2018, surrounded by his loving family. David was a very special and much loved person, colleague, friend, investigator and clinician. He will be missed by many.
He was a devoted husband, father and grandfather. He was married to his soul mate, Harriet, for 45 years. Between them, they brought five children to the marriage: three from his prior marriage and two from hers. He loved and treated them all equally.
He was gregarious, witty, quick with a pun. He never met someone with whom he couldn't talk and laugh. Jazz, dancing, theatre, classical music, fine wine, and bridge with close friends filled his free hours with his beloved wife Harriet. He was loved by many and will be sorely missed.
Tribute Book